Dream Team : Don Maddocks
I started following speedway in the later forties, followed Liverpool originally, then on their becoming defunct, switched to Belle Vue (Ron Johnson, Ken Sharples, Dick Fisher etc). Then relocated to Southampton, and followed the Saints, and when they subsequently lost their stadium, (I must be a Jonah?) travelled across each week to support Poole Pirates. It is the latter team, for which I shall try to name my all timers.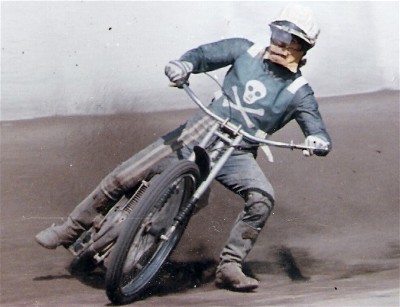 Lofqvist
Brian Crutcher
Saw Brian Crutcher when he was 16 years old at Stanley Stadium Liverpool. He came out in his first race, immaculate bike, gleaming leathers, white helmet cover and scarf. Won that race in a new track record, and went on to complete a maximum. He was awesome, and not much older than me...
Malcolm Simmons
King of Wimborne Road. When he joined Pirates from Kings Lynn in 1975 (?) he took some little time to get used to the track, although scoring maximums away from home. When he did master the track, he was unbeatable, such a stylist, and could win races from the front, or from the back. What a pity he had to have Peter Collins - who won - in the same world final in Poland, when both were at their best.
Eric Broadbelt
Gets my vote for being probably the scariest, most thrilling, greatest trier, and wonderful team member, that I have seen. To watch Eric come from the back, scraping the fence, and throwing his bike into a bend was speedway at its most thrilling
Christer Loqvist
Sadly died of a brain tumour, Christer was also a crowd pleaser but essentially our number 1 when we were short of quality at Poole. Small but big hearted
Pete Smith
Steady, consistent, Pete seemed to have been at Poole for ever......Always reliable, knew the Wimborne track like the back of his hand, and surprised even the most seasoned opponents with his seemingly suicidal inside swoops.
Colin Goody
Colin was always a veteran, but even in the twilight of his speedway career, came to Poole and was invaluable as a substitute, or just reserve rider. Together with Dicky May, they would find themselves, as a pairing, in a critical heat towards the end of a match, and race their hearts out. and invariably saved the day.
Neil Middleditch
Gangly Neil, rather awkward in his style, nevertheless was a Poole man through and through. His father Ken was captain of the club in his day, and Neil followed. Eventually his persistence paid, and he became an invaluable team member, and then Team Manager.
Submit Your Own Dream Team
This article was first published on 15th June 2006
[ Use Desktop Version ]
Comment on this Article | Contact Us | Go Back to Main Menu