The J.A.P is Modern Art
By Tony Webb
The Gallery of Modern Art in Queensland is currently running an exhibition called "The Motorcyle Design, Art, Desire".
The big picture is that I own one of Graham Warren's original speedway machines, it was selected by the Guggenheim museum for the six month exhibition.
The reasons they selected this machine was that it is authentic, carries the scars of battle with dents and scars and is not a glossy showpiece.
Click on the pictures below for a closer look at this magnificent machine.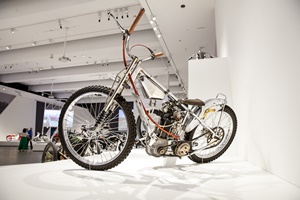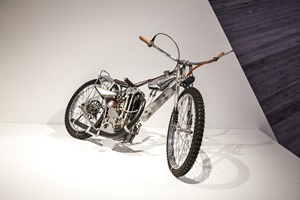 Vist the museum website for more details.
This article was first published on 17th January 2021
[ Use Desktop Version ]
---

Philip Dalling:

"Although I fully understand the economics of sponsorship in a sport struggling for financial survival, it is great to see a JAP in its pristine splendour."

Comment on this Article | Contact Us | Go Back to Main Menu