Speedway Specials
By Bill Hamilton
Here we go again looking back with nostalgia at yesteryear.
I'm not sure whether every track had this, but here in Glasgow we were very furtunate to have The Evening Citizen newspaper that put out a 'Speedway Special ' every race night with the front page mostly comprising of an article relating to whatever meeting was on, accompanied with a selection of 'stock ' photos. The majority being the Glasgow riders with some of the visiting riders, which included the top men and the less well known second strings.
These one are from 1971 ( Wimbledon, Leicester and West Ham ) and also includes the visit of the Polish team, who were getting hammered everywhere, until they came to the massive track of Glasgow, which was more like their home tracks in Poland.
The sight of them riding the boards ( more like the wall of death ) was awesome and the GB team were left totally bewildered by them. If memory serves me right I think Ivan Mauger ( paid 18 point maximum ) was the only one who put up any resitance that night.
Magnificent to see.
Click on the image to see it in a larger size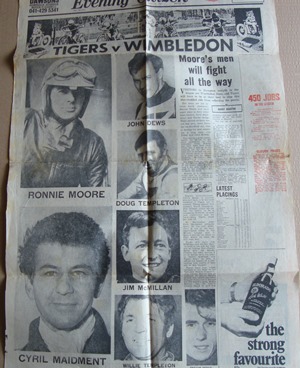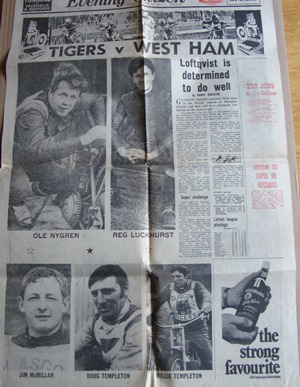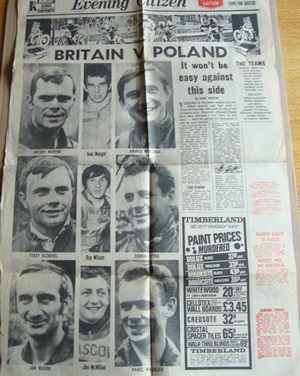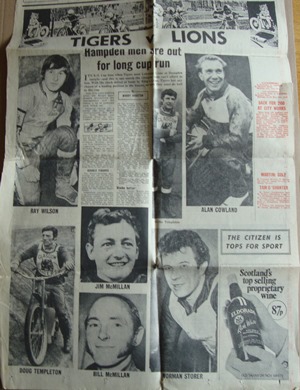 This article was first published on 5th November 2017
[ Use Desktop Version ]
---

Ross Dow:

"Really takes me back. I have been trying to think of the guy who sold the Citizen (and, possibly, Speedway Stars). I think his name was Rab - he seemed to be part of the furniture at White City. Edinburgh had The Evening News Speedway Special - I seem to recall it was pink. There was a publication of some sort at Paisley for a while which may have been linked to Dick Barrie and his wife, Wendy Fisher which published interviews and speedway updates. Even the midweek editions of the Daily Record / Evening Times / Citizen (Glasgow) and the Scotsman / Evening News (Edinburgh) included a reasonable amount of Speedway news back in the seventies."
Jim Henry:

"The National Library of Scotland has fairly good set of the Speedway Specials from the Edinburgh Evening News and the Edinburgh Evening Dispatch for the 1960s era. The are held as microfilm copies. Can I suggest Bill gives the National Library and, maybe The Mitchell Library in Glasgow the opportunity to photograph his collection of Glasgow newspapers. I would urge anyone who has Speedway Specials from other tracks to give libraries local to the track the Specials covered the opportunity to copy them. Plus - don't bin old programmes = offer them to local libraries / heritage centres. West Lothian heritage centre in Linlithgow will accept Armadale and Linlithgow / Lathallan programmes."

Comment on this Article | Contact Us | Go Back to Main Menu