DVD Review: Simon Wigg Racing Plus!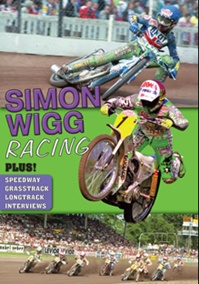 It's been twenty years since we lost the great Simon Wigg. His action-packed life is celebrated on Simon Wigg Racing Plus! - a six hour DVD collection from Retro Speedway.
This is a great selection of his best and most significant races, drawn from his three sporting disciplines - speedway, grasstrack and longtrack. The first two discs concentrate on his speedway career, while a third one covers grasstrack and longtrack. Splitting them in this way allows viewers to order their viewing according to preference.
The speedway section starts at Weymouth in 1981, opening with Simon overhauling Barry Thomas' substantial lead, an early sign of his massive potential. In a post meeting interview he's asked about his speedway ambitions and he admits that he hasn't got any! At that stage of his career he's quite candid that he viewed speedway as something that would need to fit around his other racing.
The DVDs follow his rapid progression through the ranks, moving up into the British League with Cradley Heath and into the England team. Always immaculately turned out, he's every inch the professional and quickly reaps the rewards of the efforts he puts in.
Trips to Australia follow and we see him popping wheelies throughout one race, loving the wide open spaces and delighting the whooping Aussies with his showmanship. It's little wonder that he was invited back regularly throughout his career.
A move to Oxford sees him team up with Hans Nielsen as the Cheetahs become one of the sport's most glamourous clubs. The pair are interviewed at the 1986 season launch and shown in choreographed action on the track.
There are quite a few little bits of interesting footage like this that have been included. There are insights into his behind the scenes preparation in a workshop interview with Peter York that originally featured on the Wheels of Fortune VHS release. Wiggy had a well-appointed workshop, complete with lathes and drills, backing up his theory that most points are won in the workshop.
The highlight of his speedway career was a second place finish in the 1989 World Final. We see his races from that meeting, including the run-off that secured him the silver medal.
By the early nineties the sport was changing, with the Polish League starting to attract some of the world's biggest stars. Simon was always one to embrace a new challenge and we see him in action for his club in Poland. His appearances in the UK became more sporadic in the years that followed, though we see him in action for King's Lynn and Exeter in his spells with those clubs.
Although the racing footage is consistently excellent throughout, the many interviews with Simon are perhaps even more special. He was an intelligent and articulate man, with an ever-present smile and a twinkle in his eye. He was never afraid to ruffle a few feathers, or to gently tease an interviewer. It's great that these interviews have been included as they're a reminder of what a remarkable man he was.
Even for those that have no great interest in grasstrack or longtrack, the third DVD that covers those aspects of his career is well worth watching. There's no doubt that those were Simon's greatest loves and where he performed his best - his five World Longtrack titles being testament to that. It's interesting to see Murray Walker interviewing him at a Silverstone grasstrack meeting and to learn from another interview that Simon could speak German.
Wiggy's career was cut short when he experienced a seizure that forced him to surrender his racing and driving licenses. News companies were dispatched to his home to cover the story and in front of some of the 700 trophies he'd won, Simon explains the situation and his regret at having things end in that manner. The twinkle in his eye was still there.
Finding six hours of interesting footage of a single rider seems like a challenge, but it's clear here that editor and producer Tony McDonald was spoiled for choice. The DVDs are a fitting tribute to a special individual, one who still had plenty to offer speedway (and motorsport generally) when he was cruelly taken from us
You can order your copy from retro-speedway.com
This article was first published on 16th December 2020
[ Use Desktop Version ]
Comment on this Article | Contact Us | Go Back to Main Menu