It's All About You... Jamie Scarrott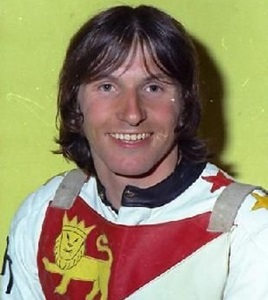 Ray Wilson
Tell us about your introduction to speedway
My father was keen on steam railways, and on a visit to The Great Central Railway at Loughborough I bought 2 brown paper bags of what I thought were football programmes ( I collected them at the time). These were being sold at 10p per bag to help raise funds! However, they turned out to be for a sport called speedway. I read them, could follow what the sport was all about due to the simplicity of the scorecards printed in the centre, and became hooked. As I was only about 13 at the time following the sport entailed reading about the Long Eaton Rangers/Archers in the local press and the occasional glimpse on tv. When I was old enough, and had my own transport, I ventured over to Station Road, Long Eaton to see Nottingham Outlaws v Oxford Cheetahs. My first ever meeting, and the rest,as they say, is history.
Tell us about your favourite meeting of all time
Has to be Long Eaton's 58 - 20 win over Scunthorpe in 1984 which confirmed us as National League champions. Also remember winning away at Boston one Sunday afternoon. Can't remember the score, but it was 1st time I'd seen Long Eaton win away. Which didn't happen too often then.
Tell us about your favourite rider of all time
Although most Invaders fans regard Dave Perks as Mr. Long Eaton, for me it has to be Gerald Short. The way he used to blast around the outside of everyone on those wide Station Road bends was breathtaking. Remember him being nearly half a lap ahead of Joe Owen at Thornton Road, Ellesmere Port.
Tell us about your favourite track/stadium
Station Road, Long Eaton for its fairness to all riders and Owlerton, Sheffield for the atmosphere created by the enclosed stands.
What are the best things about speedway?
Family sport. Chaepness of admission compared to football.
What are the worst things about speedway?
Slick tracks. The constant tinkering of the rules. Poor spectator facilities at some tracks. The medias lack of interest (Sky Sports excepted).
What one thing would you do to improve speedway?
More dirt.
Tell us about a rider you wish you'd seen
I've heard so much about the legend, in these parts at least, that was Ray Wilson. I'd have loved to have seen him ride around Long Eaton and Leicester but was too young.
What does the future hold for speedway?
With continued Sky Sports coverage the future is bright. Need to get more media coverage though. Starting point could be the GP at Cardiff. Just imagine if a few heats were shown in the sports round up on BBC/ITV news. Was that a pig I just saw flying passed my window?
Take part in this feature
This article was first published on 28th January 2010
[ Use Desktop Version ]
Comment on this Article | Contact Us | Go Back to Main Menu