Dagenham Cup of Merit Mystery
By Nerina Clarkson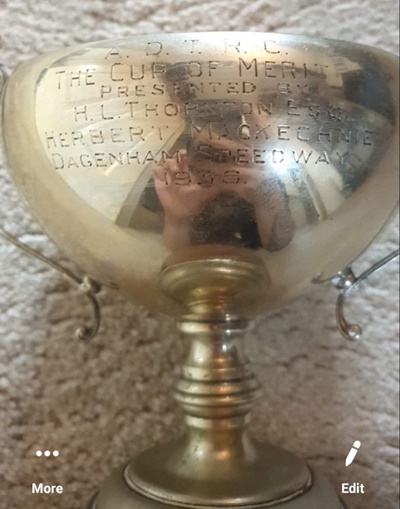 I have a cup of my Grandfather's in my possession and I am wondering if anyone can shed some light on it.
On the cup is engraved. A.D.T.R.C The cup of merit presented by H.L. Thornton Esq. Herbert Mackechnie. Dagenham Speedway 1935 or 6.
I vaguely remember my grandfather telling me of a close friend or even relative who died and after that my grandfather didn't ride again.
Would anyone have any information please? I didn't take much notice as a young child and of course now I would like to know more.
If you can help then please leave a comment in the form below, or send us an email at speedwayplus@hotmail.com
---
Updates from our visitors
Rodney Hardcastle found this newspaper article from the 'Essex Newsman' of Saturday 20 August 1938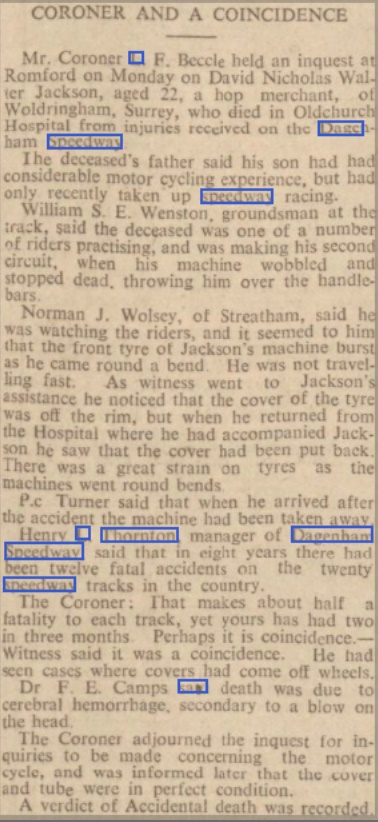 Jim Henry said:
Dagenham is one of those "hazy venues" which needs a bit research. As yet it is poorly covered on the Speedway Researcher web site. The best I can suggest is sourcing local newspapers via the local history section of the Dagenham and Redbridge Council or seeking to read newspapers via British Library Newspaper archive. Some of the newspapers can be viewed online but it is pot luck if the ones you want are there just now. To be fair the BL adds many hundreds of pages each week and the task is still massive.. information on fatalities can be found on the Speedway In Memorium web site.. if the contributor wants to contact me I may be able to help with some contact details re Local Authority.
Crayford Kestrels on Twitter said:
I'm afraid we cant shed any light on this trophy otherhan its more likely dated 1936 as Thornton ran Dagenham that year having moved from Crayford where he was instrumental in forming Crayford Amateur Speedway Club in 1935 - crayfordkestrels.co.uk
Howard on Twitter said:
Possibly looks like the trophy won by Frank Hodgson in the third picture down on this page on the Defunct Speedway website.
This article was first published on 6th September 2019
[ Use Mobile Version ]
---

Keith Corns:

"A meeting was held at Dagenham on 9th August 1936 for The Secretary's Cup. According to a report in Speedway News, the cup was given to the Amateur Speedway Riders' Club by the Hon. Secretary, Mrs. G. O. Thornton. Mrs. Gladys Thornton then presented the cup to the winner, Frank Hodgson. One of the riders participating in that meeting was B. McKechnie. As the cup in the photograph is inscribed 'The Cup of Merit', I suspect it was awarded by H. L. Thornton at the end of the season, possibly at the Championship meeting on 8th November 1936, to Herbert Mackechnie (note the slight variation in spelling) as a rider who had perhaps ridden consistently well or made progress throughout the year. This assumes B. McKechnie is Herbert (Bert) McKechnie. "

Comment on this Article | Contact Us | Go Back to Main Menu