Book Review: Freddie Williams - Double World Speedway Champion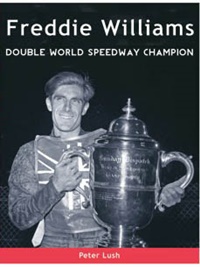 Of all of Britain's world champions, Freddie Williams is perhaps the least celebrated. The Welshman clinched the title twice, in 1950 and 1953, a British record only surpassed by Tai Woffinden when he won his third world title last year.
Williams' story is now being told afresh in a new book from Peter Lush. "Freddie Williams – Double World Speedway Champion" has recently been published by London League Publications, who previously issued books on Wembley Lions and Bert Harkins.
The author was inspired to start work on the book after coming into contact with the Williams family after his book on Wembley was published in 2017. He wasn't fortunate enough to meet Freddie or even to see him ride, so the book relies heavily on contemporary newspaper and magazine reports to tell the story. Many direct quotes are included from meeting reports, news stories and ghosted articles from the star riders of the time.
Discussions with the Williams family allowed the author to build up a more rounded picture of the man and the impact that his career made.
More recent interviews that Freddie Williams gave to Vintage Speedway Magazine (1994) and Classic Speedway Magazine (2012) also prove rich sources, offering Freddie's perspective on the events of many years previously.
Williams was one of the new stars that emerged in the post-war era, taking over from the early stars of the dirt-track who had made their names in the thirties. Building on his experience as a motorcycle dispatch rider during the hostilities, he took part in speedway trials at Rye House and gradually established himself as a reliable team-member for the famous Wembley Lions.
Once he'd found his feet his progress was rapid and within five years of his first rides he was crowned world champion at Wembley. It remains one of the most surprising title wins in the history of the sport. He followed that success with a second place in 1952 and another win on the big night in 1953, the last year in which he qualified for the final.
The books covers these title wins in detail, including the celebrations that followed in both London and Wales.
Business interests outside the sport started to take up much of his time and by the middle of the 1956 he'd had enough and decided to hang up his boots. A career that had lasted only eleven seasons, three of which ended with him on the rostrum at the world final, a decent return by anyone's standards.
The book includes a lovely foreword by John Chaplin who we lost recently. Chaplin knew Freddie on a personal basis and describes a very self-effacing man who didn't really appreciate just how well he'd actually done.
Freddie wasn't the only successful speedway rider in the family. His brothers Ian and Eric were also talented riders at British League level. Lush dedicates a chapter to each in this book, giving a summarised history of their own careers.
The Williams family generally are hugely talented and have achieved great success in other sports too. There are sections of the book dedicated to their various successes in golf, ice skating, football and equestrian events.
There are only 150 pages in the book, including a short statistical section at the rear, so the story always moves along at a decent pace, never getting too bogged down in unnecessary detail.
This book should prove an interesting read for both those who remember Freddie Williams and those who would like to learn more about an under-appreciated British champion.
You can order the book from London League Publications for £13.50 including free UK postage.
This article was first published on 23rd April 2019
[ Use Mobile Version ]
Comment on this Article | Contact Us | Go Back to Main Menu