HARRINGAY - Harringay Stadium
Home of Harringay Speedway from 1928 to 1961
Picture courtesy of Fred Pallett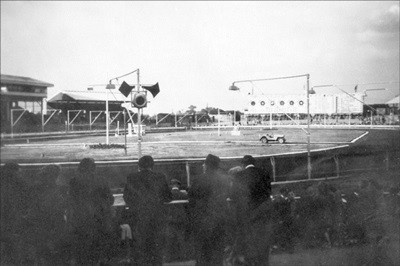 Pictures courtesy of Norman Jacobs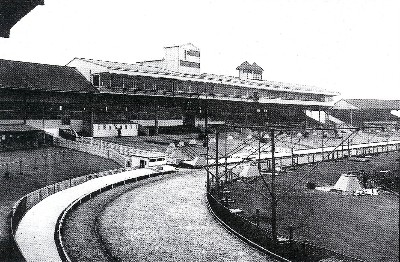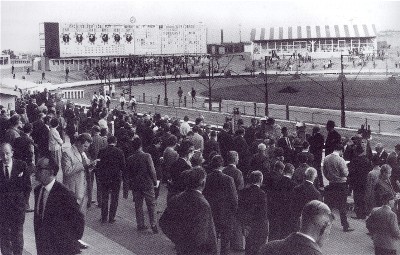 This article was first published on 2nd April 2005
---

Geoff Boxell:

"As a very young boy I travelled to all the London tracks with my father & our neighbour, who took us in his sidecar. I remember well Wembley & West Ham and in later years Hackney. However, one track used to have a bugler (or similar) announce riders coming from the pits to the tapes and ended each race with a maroon (giant banger firework). I think it was Harringay. Can you confirm this for me? It would have been between 1950 & 1955."
Glenn Collins:

"It is great to see, pictures of Harringay as this was the very first place my dad ever went to watch. Before his death in 2003 he use to tell me stories of how he use to get the bus there on his own to go and watch. "
Rhonda:

"I only remember driving past Harringay Stadium on the way to visit relatives and being fascinated by the figures of racing dogs and the Firestone(?) ad on a nearby bridge. My Mum's in hospital at the moment and we were chatting about stuff and she said she used to go to Speedway there, I never knew about that. She said she loved watching the Goodman brothers but I can only find details of Roy Goodman (born same year as my Mum). Did he have a brother, or maybe someone he was always associated with, or maybe there were brothers who raced but a different name? "
Richard Hodgson:

"With reference to the comments on Harringay Speedway, the two brothers racing there post war were the Duggan brothers ( Vic and Ray ) not the Goodman brothers."

[ Use Mobile Version ]

Comment on this Article | Contact Us | Go Back to Main Menu