'Hero' or 'Villain'
By Tracy Holmes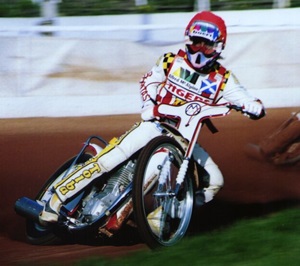 Robert Nagy
Picture by Ian Adam
For 47 years, I have been a fan of the World Speedway Final and the riders that qualified for it. And those who qualified as reserve especially if they never got to ride. Then there were the qualifying rounds that were negotiated to get to the Main event. Every rider who was eligible had the right to enter and good on them. For the majority, the dream of making the World Final would be just that. But they gave it a go. For others, making it was a real possibility and doing well once there, was also well on the cards.
At times however, the life of a speedway rider got in the way. Injuries, illness, mechanical misfortune or just a bad day at the office could all strike at any time, despite the best efforts to keep them at bay.
For Ole Olsen, it was the 1976 Intercontinental Final at Wembley. The last hurdle and he was the defending World Champion. Already at a mechanical disadvantage, his 2 valve Jawa, no matter how hot, was not quite up to the 4 valve Weslakes or Street conversions, like Ivan Mauger was on. But he was still riding red hot and a favourite to qualify. Then his nightmare began. Excluded in his first heat for knocking into Anders Michanek, he was well clear of Ivan Mauger, Doug Wyer and Phil Crump next time out, only for an engine failure to rob him of 3 points. Three second places later, Ole was out! As it turned out, he could not have won the World Final anyway. He would have been no match for Peter Collins, but it was a shame the defender was not on parade. Certainly up for double figures and maybe a place. ,P> This story is however, about something very different. It's about those who 'may' have qualified but were robbed of the opportunity by the one's I view as the 'Villains'! But also, there are the 'Heroes' who sacrificed their own plans to make way.
At the Wembley World Final of 1972, three riders made amazing debuts. Christer Lofqvist from Sweden was 4th. John Louis from England was 5th and Alexander Pavlov from the USSR was 6th. So to the 1973 competition. Pavlov made it to the last round, the European Final at Abensberg but a 4 point return saw him out. Sadly, an off day. John Louis however had an off day at the Sheffield staged British Final. He fell first time out, then scored a duck. But two wins and a third saw him qualify for the next round as reserve. That next round was the British Nordic Final at Coventry. Sheffield's Rick France had qualified but was carrying a shoulder injury. France had ridden in the 1967 World Final at Wembley and despite being under the injury cloud, scored a very respectable 5 points. This being the highlight of his career. So to find himself two rounds from another appearance must have been exciting. Now is when Rick France becomes a 'Hero'. He could have taken his place and with eight to qualify, may have been in with a shout? Leaving John Louis to sadly think about what may have been. Not this guy. He pulls out of the event and Louis steps up to take full advantage of the reprieve, scoring ten points to qualify safely. Thanks to Rick France, the hopes of "Tiger Boy Louis" and his legion of fans were back on track. Rick France, 'HERO'! Footnote, oh aye, been to the chiropodist 'ave we? Louis was barred from taking his place in the European Final which is a whole other story. Anyone want to run with that? Get it? Run with that. Haha, good joke that. Pun like.
Christer Lofqvist had not had the best start to the year. He too got banged up and at the Norkopping staged Nordic Final, June 6, scored just eight points. In the run-off for the last place, he fell and veteran Gote Nordin took the last position. Still, Lofqvist would go to the British Nordic Final as reserve so all hope was not lost. Later that month, The Daily Mirror World League Tournament kicked off in the UK. The likes of this series had never been seen before or since. Gote Nordin was not called upon to ride. Lofqvist started quietly, 5 points at Sheffield against England on June 28. The following night, June 29 at Hackney, another 5 points against USSR. Third night in a row, June 30, top scores at Swindon against New Zealand with 11. Christer is then rested from the next two matches and is back on July 7 at Halifax. Ten points against Poland. The Semi-Final for Sweden is at Coventry, home of the British Nordic Final and our Poole Pirate top scores with Anders Michanek, 12 each against Australia. The Grand Final is at Wembley on July 14 and all that most remember is the Gold Medals run-off, Michanek V Peter Collins. The magnificent efforts of Lofqvist totally overshadowed here. He scored 10 from four heats. Beaten only by Ray Wilson and Peter Collins. His photo finish win against Terry Betts is equivalent to anything Bruce Penhall did at Wembley 8 years later. And it was his win over Malcolm Simmons and Betts in the last heat that set up the run-off in the first place.
Christer Lofqvist was HOT and surely, Nordin would stand down from the British Nordic Final for his fellow Swede. But why should he? He had qualified fair and square, even beating Lofqvist in the run-off to do so. So why? Nordin was a Swedish legend and his achievements on the World stage echoed that title. World Final Bronze medalist. Five World Team Cup Gold medals. Twice winner of 'The Internationale' when it was at it's peak and he was Swedish Champion. So why on earth should he step aside? Well, it's only my opinion here. Nordin's day as a World Title contender was over. Lofqvist was a genuine contender and the Speedway world should not have been robbed of seeing this new Superstar going for the sport's ultimate prize. Could he have qualified from Coventry? For sure. From Abensberg with 11 places available? No sweat. One of the saddest Trevor Meeks snaps I have shows Lofqvist at Coventry, August 1 on the British Nordic Final grand parade, sitting beside Nordin, Tommy Jansson and Bernt Persson. His forced smile says it all. On the day, Nordin is totally outclassed. 5 points and he fails to qualify. The one commonly known to the Speedway world as 'The Gentleman', on this day, to me is 'THE VILLAIN'!!! There are those who still say that had Nordin given up his place, it would have been cheating. I would have called it genuine sportsmanship. And in the interest of the World Speedway Championship, would have presented him with a medal of honor.
1975. Barry Briggs, after being smashed up on May 11, is seeded by the Kiwi 'old boy network' to the Intercontinental Final at Gothenburg on June 3. With only two places available, Ivan Mauger was unbeaten in his 3 rounds for the other spot. Next in line was Bruce Cribb. The Cradley star had scored 33 points. Hull, May 21, round winner with 14. May 29, 9 points at Wimbledon and May 31, 10 points at Cradley. Briggo had not had time to recover suitably and had the wonderful opportunity to step aside for his Kiwi colleague. Had Cribby scored just a handful of points, one could understand if BB thought it best if he gave it a go. But 33 hard earned points?! Bruce Cribb more than deserved his crack at the big time. But oh no, Barry Briggs decided to take his handed place and stuff the Mad Maori! What happens? One point from his first ride, he clashes with Tommy Johansson in round two. The result? Injured, again, and unable to take any further part. Oh for ...
In the words of the late Dave Lanning, "The mighty Briggo, a track colossus!" And I agree with that. On this occasion however, in my book, a 'VILLAIN'!!!
It's 1979 and Mitch Shirra scores 10 points at the Australasian Final. Good effort but he lost the run-off for the last place to Larry Ross. So Mitch goes to the Commonwealth Final as reserve. On the day, Phil Crump arrives at White City, suffering from tonilitis. He is in no fit state to ride a speedway bike. But ride he does and in heat 1, follows home Doug Wyer ahead of Roger Johns and Alan Molyneux. Those four laps drained him completely and he was no match in heat 6, last behind Ivan Mauger, Dave Jessup and John Davis. With that, Crumpy withdraws from the meeting. He had shown great courage in attempting to qualify so well done indeed! BUT, I can't help thinking that maybe, just maybe, he would have shown greater courage by accepting that illness was greater than his ability that day and if he had have withdrawn before the meeting, the public would have been better served by seeing Mitch ride instead. Absurd? Well again, maybe. For me, on that day, Phil Crump played the 'Villain'. If that's a bit harsh, let me say, he bowled underarm!
On now to 1982 and again it's Mitch Shirra. This time as reserve for the Overseas Final. And this time, he had no excuse for holding that position. The New Zealand Champion should have joined Larry Ross as the two qualifying riders from the NZ Round at Christchurch. Ivan Mauger should not have done him so easily. HOWEVER, Ivan Mauger went to White City and rode, knowing he had no show of qualifying. Why? If you want the truth, see my article on this site, 'The 1982 Debacle'. It's all there. If not, lets just say, as Kenny Carter's manager and 1982 World Final co-promoter, Ivan had a totally different agenda to his 15 rivals that day. 'VILLAIN'!!!
1984. Despite recovering from a broken collar bone, Simon Wigg qualifies for the British Final as reserve. Now we all know that because Malcolm Simmons withdrew from the meeting, Simon got to ride. We all know how it went down and how it caused huge damage when the story hit the press later in the year. All very unfortunate. For me, Simmo was the ultimate 'hero'. His days of World Final glory were well over. He was one of the sports genuine superstars with a stash of Gold and Silver medals and titles to prove it. Now in the twilight of his amazing career, there was no point in depriving young Wigg of a shot at the World Final. And so it was. Simon not only qualified from the British Final but made it through the next two rounds to the World Final and finished 6th on debut. Brilliant! And thanks to Malcolm Simmons. Once again, Simmo the star studded 'HERO'!!!
Wroclaw, August 29, 1992. Denmark's Gert Handberg takes the World Final Bronze Medal, behind winner Gary Havelock and second placed Per Jonsson, despite a last round duck. His ten points, one more than pre meeting favourites Henrik Gustafsson and Tommy Knudsen. The following year, Gert qualifies for the 1993 World Championship Semi-Final and goes to Lonigo. Sadly, he is carrying injuries that will make finishing in the top 8 one hell of a task. He is however, determined to try. Top marks! He goes out for his first heat, does a practice start and realizes he has no show. With that, he withdraws from the meeting and British Champion Andy Smith gets a reprieve. And Smith certainly makes the most of it. Take a bow, Gert Handberg. You are, how they say, a 'HERO'!!!
Which brings me to 1994. This is the classic 'two sides to every coin'. Joe Screen rode in the previous years World Final. This year, 2nd in the British Final and 3rd in the Commonwealth Final. Then it turns to custard. Somehow he duffs the Overseas Final and finds himself reserve for the World Championship Semi-Final. Worse, the Semi is at his home track, Bradford. Yes, he only had himself to blame so tough shyte! Lining up at the Bradford Semi will be Hungarian Robert Nagy. [ My Hungarian friend tells me that is pronounced 'Nodge'. ] He rides for 2nd division Glasgow. However, he got very badly smashed up in May and the healing process was proving a painfully slow one. It was now July 10 and Nagy had only ridden a few times. This lad no matter how brave and determined, was in no fit state to ride in such a meeting. So how did he pass as fit? The referee that day? Jeno Koroknai, Hungary. I wonder ... Joe Screen appealed to his opponent. But Nagy is defiant, "Why should I have pulled out? I can understand how Joe Screen must have felt but at the end of the day he hadn't qualified. He made it quite clear he would have very much liked me to drop out. But if I had pulled out, how would the hundreds of Glasgow fans have felt after coming down to cheer me on? I couldn't let them down. I honestly thought I could do it."
I'll give you ten out of ten for bottle son! And you can see his point. On the other hand, Screen on his home track was a favourite to qualify and although not a World Title favourite, could have been looking for double figures. By riding under these appalling conditions, Nagy deprived the Speedway world of seeing one of it's brightest stars shining. And Nagy, who by the way had crashed in practice, did not complete one heat! Failing to finish in his two opening heats, he crashes in the third and sustains further injuries. There would be no Hungarian uprising. Withdrawing from the meeting at half time, it was a pointless exercise in futility and this Hungarian hot shot became the years most wanted 'VILLAIN'!!!
So, hows that? Sound eh?! If you think it's a load of bollocks, please say so. Love a good debate me. And I hope you enjoyed the ride.
This article was first published on 3rd June 2018
[ Use Mobile Version ]
---

Terena Savage:

"Robert Nagy qualified for the 1994 Inter Continental Final via a different round to the Overseas Final which Joe Screen failed to progress from. So surely had Nagy dropped out before the meeting started, should it not have been the reserve from Nagy's meeting taking his place?"
Tracy Holmes:

"Hi Terena. Joe Screen was number 17 and Roman Matousek 18. So in the event of a reprieve on the day, Screen was next in line. Per Jonsson had qualified for the meeting but his career had come to an end by injury. From the Nordic Final, Claus Jacobsen had qualified for the Prague Semi as reserve. But he got to take Jonsson's place at Bradford. So had Nagy pulled out a week before, maybe Matousek would indeed have been his replacement. But on the day, Screen at 17 would have lined up. "

Comment on this Article | Contact Us | Go Back to Main Menu