Dream Team: Jim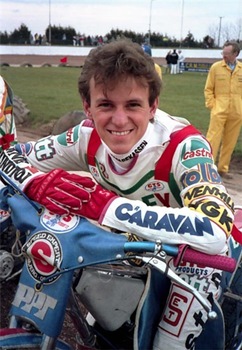 Jan O. Pedersen
I was born on the 15/03/80 on a Saturday. My Dad worked at Dudley Wood and put me in the supporters club at a few hours old, so I've been a Cradley fan all my life. There will be no W****s riders but I have respect for Sudden Sam. I think we gave him stick because we knew what a bloody good rider he was.
Erik Gundersen
What can you say about Erik? He was there for everyone, he even came to my primary school (Hawbush Primary) summer fairs & because my Dad worked on the track at Cradley, I saw him all time. A gentleman and a good rider.
Gert Handberg
Okay not my popular pick and Im reasdy for the stick of my fellow Cradley fans but on his day he was brilliant, especially off gate 3 at Dudley Wood.
Kelvin Tatum
My favourite non Cradley rider and always did well round Dudley Wood, plus he turned down W****s in the 1989 KO cup final because he wanted to do it for Erik. Much respect Kelvin.
Jan O Pedersen
Mr entertainment. 9/10 if he was last in the 1st bend by the end of lap 1 he would be 1st. Also a great team rider.
Tommy Knudsen
A very underestimated rider on his day, the best in the world, probably the best (in my time along with Kelvin Tatum) not to be world champion.
Simon Cross
Again very underestimated & a world beater on his day, plus his pink leathers.
Greg Hancock
What can you say about Herbie? I saw his 1st meeting as a 9 year old at Dudley Wood & his first race win. Just like Erik he loved Cradley & Cradley loved him.
Submit Your Own Dream Team
This article was first published on 1st June 2014
[ Use Mobile Version ]
Comment on this Article | Contact Us | Go Back to Main Menu