Dream Team: Joseph
I am 16 years old. The first time I went to a speedway match, I was 3 months old, and have been going ever since. The Premier League is my favourite league, especially Workington and Redcar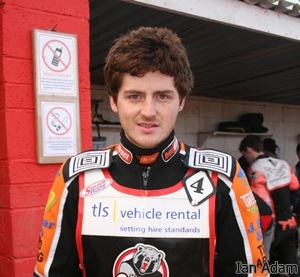 Richard Lawson
(Ian Adam)
Tai Woffinden
Excellent Team GB rider, and a rider who braves most of his injuries. Tai Woffinden is an excellent credit to every team he has ridden for. Tai Woffinden, along with my other six riders contributes to the 45 point average that the Premier League allows.
David Bellego
David Bellego scored well at the 2013 PL Fours, standing in for Robin Aspegren. He proved himself to be a great rider and worthy enough to be Number 2 in my Dream Team. After crashing at the Fours, David Bellego went through to the re-run and scoring well.
Mickey Dyer
A rider who took the PL by storm, and now has an average over 6, Mickey Dyer was the top scorer at Workington the other week, despite riding away (for Redcar). A great rider, deserving third place in my Dream Team.
Kyle Newman
Kyle Newman is one of the emerging figures in the Premier League. Kyle is a great rider for Somerset, and will ride even better for my Dream Team
Richard Lawson (Captain)
Richard Lawson would be the captain of my Dream Team. His average is high (above 8) and he has excellent organising skills, as demonstrated by his captaining of the Workington Comets. Richard also demonstrates high skill whilst on the track, both home and away.
Cameron Heeps
Cameron is a good well-round speedway rider, who reserved for Ipswich at the Fours in 2013. Although he only rode once, he managed a respectable two points and is deserving of reserve rider in my Dream Team.
Simon Lambert
Despite having the lowest average of my Dream Team, Simon Lambert is a great aspect of racing. He rides well at most places, which is why he is a reserve in my Dream Team.
Submit Your Own Dream Team
This article was first published on 1st September 2013
[ Use Mobile Version ]
Comment on this Article | Contact Us | Go Back to Main Menu