Riders to Remember....Olle Nygren
By Dudley Jones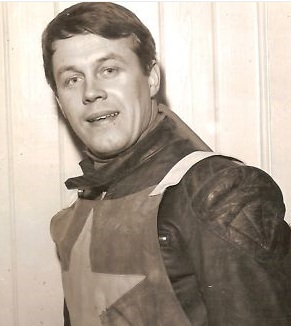 Olle Nygren
Olle is a rider I remember with affection from my earliest days supporting Norwich, but he was also much, much more.
In early 1963, I think it was, Norwich had a crisis. Eric Williams had called it a day and Ray Cresp, allocated upon the sad demise of Ipswich, had not materialised.
The Stars were just not strong enough. They had the great Ove Fundin, and the young pretender Terry Betts, but beyond that lay Billy Bales, a celebrated rider of great skill, but one who had suffered much injury since he set Great Yarmouth on fire in the early 1950s, Jimmy Gooch was a worthwhile asset, John Debbage was a trier, but the fact was that the team were vulnerable, and weak.
All too often the visitors would let Fundin, and to a lesser extent Betts, go and just fill in behind them, inevitably winning the match.
Norwich's gates were brilliant, the terraces were full, but something had to be done.
Olle Nygren was available, but the Control Board had a one overseas rider per team rule.
In 1953 New Cross had withdrawn from the National League for very much the same reasons, and ironically the rider they had wanted to sign was the same Olle Nygren.
None of this meant anything to me at the time. I had just discovered the sport and thought that 'Speedway Star' was a Norwich fan magazine!
I didn't know who Olle Nygren was, until he turned up at the Firs and rode every bit the equal of Ove Fundin. What a find I thought (not knowing that Olle had been around for since the late forties).
Happily Norwich were able to keep Olle, and he played a key role in the improved fortunes of the team in their last two years.
Little did I know that Olle was regarded as the first of the great Swedes, and that he was an all round motorcycling star at home.
He had ridden for Bristol and Harringay, among others, at a time when I was still a small boy. He had finished third in the World Championship while I was at junior school.
To me, however, here was a new star (and Star).
Olle was a hard and committed rider. He didn't take prisoners, but he gave the team his all. In fact I rated Olle above Ove, when it came to ensuring the team won.
I sometimes saw Olle in Norwich at lunchtimes. At the time he drove a large blue Renault estate, with a big Renault badge on the doors, which he used to park in Riverside Road where I worked.
Ove was probably the greatest rider of his day, some say of them all. Terry Betts was a truly great find for the Stars, but with Olle on board Norwich began to look like champions.
Three good heat leaders, backed up by Bales and Gooch - suddenly I could believe in this outfit.
Probably my outstanding memory of Olle, and the Firs for that matter, was a last heat decider when Belle Vue came visiting.
The legendary Peter Craven was partnered by Soren Sjosten (another short guy who rode like a clone of Peter), and lined up against Ove and Olle in the final heat.
The Belle Vue pairing made the gate, and Peter and Soren team rode as well as I have ever seen, they were perfect.
At the start of lap 2, Olle grabbed a handful of throttle and rode clean round the outside of the pair of them. A potential 5-1, became 3-3, but we needed at least 4 - 2 to win.
Peter and Soren were immaculate and as we went into the final lap, Ove was still at the back.
On the back straight for the final time, Ove did what perhaps only Ove could do. He drove, at full throttle, straight between the two Aces, and joined Olle at the front, the points were secure. Two of speedway's true greats had won the day for Norwich, by a whisker, from two great Aces.
As a Norwich supporter in 1962 - 4, I could not understand why Olle was not a regular at World Finalist. He had been good enough once, having finished third in the fifties, and it was hard to conceive of him ever having been any better than he was for Norwich (where he settled down to live, long after the Firs was demolished).
With the premature death of Norwich and the birth of the British League. Olle joined Wimbledon, where he was a great hit. Indeed he was so good that everyone wanted him as a guest rider, to the point where Speedway Star described it as Olle Nygrens 'benefit season'.
Olle was always great value. I saw him when he visited at West Ham during his Wimbledon days, but Olle went on to ride for West Ham, before moving to Ipswich when the West Ham licence was bought to enable the Witches to join the top flight.
I never saw Olle ride for West Ham or Ipswich, and I suppose that time was catching up, even with the wily Olle. Nygren had been the first great Swede to be recognised, and had started in the UK in the late 40s. It was reasonable to expect him to be in the twilight of his career in the 70s at Ipswich, but he still brought much experience to the ambitious Witches.
For many years Olle ran training schools at Kings Lynn. Boston even tried to get him accepted to ride for them in Division 2, several years after he retired from Ipswich.
Apparently Olle is, to this day, something of a national celebrity, as well as sporting hero in Swede,
Thanks Olle, you will always be one of my great sporting heroes.
This article was first published on 17th February 2011
---

Cary Cotterman:

"Really enjoyed the Olle Nygren piece by Dudley Jones. Imagine going back in time and seeing the likes of Nygren, Fundin, Craven, and Sjosten in a last-heat decider. Reading about it gave me quite a thrill up my spine!"
Bill Plasted:

"Olle Nygren, green scarf, white boots, probably one of the best things to come out of Scandinavia since Carlsberg. Great captain, very happy to give advice to younger riders, great team rider. Flamboyant and very exciting to watch. A real credit to speedway. Bring back the Dons!!"
Kevin Dyer:

"I was there at Wimbledon 64, 65, 66, 67 and 68 and Hackney and Exeter during summer holidays."
Malcolm Cook:

"I was a staunch Harringay Racers fan from when my father took me to see speedway for the first time in 1947-8 through to 1953 when Harringay closed down. I never missed a home match and sat in the supporters stand in the first bend. I remember a special night when, prior to the match commencing, a young Swedish rider called Olle Nygren was introduced to the fans, he did 4 solo laps on his orange painted bike and became an immediate Racers favourite. Olle's new team mates in those days were Split Waterman, Ron How, Jeff Lloyd, Jackie Biggs, Arthur Atkinson, Jimmy Squibb and possibly Lloyd Goff. Years later, early 80's, BBC Radio Norfolk presenter Roy Waller invited me to lunch so as to meet Olle, sadly I had to decline the invite due to tour commitments. "
Eddie Friedberg:

"My first introduction to speedway thanks to brother in law was 1966 - 1969. and to see Olle Nygren and The Wimbledon team was a revelation, Every Thursday Night. we used to pack up work in Eastbourne and rush up to Plough Lane to see our Heroes. Thank you Olle !!!!!"
Alastair Fyfe:

" I had vivid memories of seeing Olle for the first time in 1948 at White City, home of the Glasgow Tigers in these days. Good to read that he was a gentleman too."
Jim Henry:

"Olle Nygren first rode at White City Glasgow in 1949 and here are details of the meeting. I remember asking him about the meeting, especially the newspaper reports which said the run off was controversial.In a flash he said he had been knocked off and was still a bit teed off about it goodness how many years later. Olle obviously remembers it too.

Wednesday 6th July 1949
White City Stadium, Glasgow
World Championship Third Round

Jack Young 2 2 2 1 3 - 10
Frank Bettis 0 1 0 0 2 - 3
Olle Nygren 3 2 3 2 2 - 12
Brian Wilson 1 0 0 1 1 - 3
Ron Mason 3 0 0 3 E - 6
Geoff Bennett F 3 3 3 3 - 12
Wilf Jay 1 0 1 1 1 - 4
Ken Adams 2 2 1 0 1 - 6
Derek Close 1 2 0 2 2 - 7
Kid Curtis 0 0 2 1 E - 3
Jimmy Squibb 2 1 2 2 2 - 9
Gordon McGregor 3 3 2 1 1 - 10
Howdy Byford E 3 3 3 F - 9
Gil Craven 3 1 3 2 3 - 12
Charlie May X 3 3 E 3 - 9
Buck Ryan 2 1 1 F 0 - 4
Ken McKinlay (Res) DNR

Ht1 Nygren, Young, Wilson, Bettis 80.8
Ht2 Mason, Adams, Jay, Bennett (f) 82.0
Ht3 McGregor, Squibb, Close, Curtis 84.2
Ht4 Craven, Ryan, Byford (ef), May (exctps) 83.0
Ht5 Byford, Close, Bettis, Mason 83.0
Ht6 Bennett, Young, Craven, Curtis 81.8
Ht7 May, Nygren, Squibb, Jay 82.8
Ht8 McGregor, Adams, Ryan, Wilson 83.6
Ht9 Bennett, Squibb, Ryan, Bettis 83.2
Ht10 May, Young, McGregor, Mason 82.8
Ht11 Craven, McGregor, Jay, Bettis 83.0
Ht12 Byford, Curtis, Jay, Wilson 83.4
Ht13 Nygren, Craven, Adams, Close 82.4
Ht14 Byford, Squibb, Young, Adams 84.6
Ht15 Mason, Nygren, Curtis, Ryan (f) 83.6
Ht16 Bennett, Close, Wilson, May (ef) 82.4
Ht17 May, Bettis, Adams, Curtis (ef) 84.2
Ht18 Young, Close, Jay, Ryan 82.6
Ht19 Bennett, Nygren McGregor, Byford (f) 82.6
Ht20 Craven Squibb, Wilson, Mason (ef) 84.6
Run Off For First Place : Bennett, Craven, Nygren (f) No Time "

[ Use Mobile Version ]

Comment on this Article | Contact Us | Go Back to Main Menu