Opening Nights: Powderhall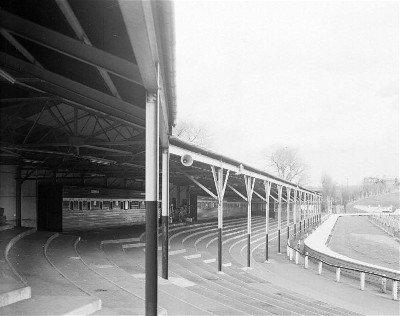 Powderhall Stadium - Edinburgh
Between 1968 and 1976 Edinburgh was a city without a speedway team. The Monarchs had lost their Old Meadowbank home when the stadium was demolished to allow a new Commonwealth Games stadium to be built. They had switched their operations to Coatbridge for the couple of seasons that followed but the venture proved to be shortlived.
Despite this, the sport could still boast a great following in the city. Supporters clubs remained active and fans got their regular 'fix' at either Glasgow or Berwick.
Powderhall Stadium, a well appointed greyhound circuit not far from the town centre, had often been coveted by prospective speedway promoters but the Greyhound Racing Association (GRA) had always rebuffed all approaches. That changed in late 1976 when Neil MacFarlane negotiated a deal to allow the Monarchs to be reborn.
MacFarlane was already a recognised promoter having operated the Paisley circuit in 1975 and 1976. That track wasn't proving too profitable and he saw Powderhall as a more viable concern.
MacFarlane pressed ahead with his plans but he was dealt a blow when Mike Parker played his trump card. Mike Parker Promotions operated a number of tracks throughout the country and held exclusive rights to promote speedway at GRA stadiums. He decided to partially exercise that option and join MacFarlane as co-promoter of the Monarchs.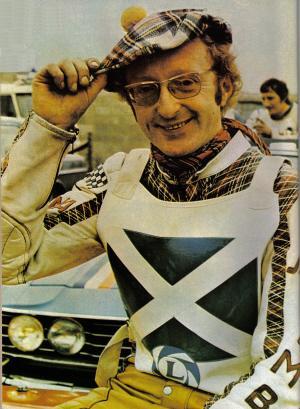 Bert Harkins
Building a side was never going to be easy for a new track located so far in the North. Bert Harkins, a Monarch from the sixties, was recruited to captain the side. He'd spent the previous season racing on the "shinbone alley" circuits in the USA but had been a reliable performer for many years. As a big personality and as a link with the past he was an obvious and excellent choice to lead the team.
His team mate Jack Millen was another huge personality and a more rough-and-ready performer it's difficult to recall. The third heatleader, Charlie Monk, offered a complete contrast to his two aforementioned colleagues. He was one of the great 'quiet men' of the sport and legend has it he got rid of his phone because he didn't want to be bothered by people. Charlie had been a great hero at Glasgow in the sixties but by this time he was struggling with arthritis in his wrists and was a shadow of his former self.
Dave Trownson and Alan Bridgett were the second strings in the new team. Trownson was to remain with the Monarchs for 11 seasons and become one of the club's all-time top scorers. 'Doc' Bridgett combined his racing with track maintenance duties where he worked alongside Ted Flanaghan. Bridgett is once again in charge of track maintenance for the Monarchs at their present Armadale home.
Completing the side on opening night were Aberdonian Alan Morrison and Neil Webb.
A crowd reported to be in the region of 10,000 packed into Powderhall to watch the new Monarchs team take on the Berwick Bandits. The fixture was initially scheduled as a league match but the Monarchs' management decided to play safe and requested it be changed to a challenge, presumably wary of the lack of home advantage the new side would initially face.
The honour of winning heat one went to Willie Templeton after mechanical gremlins slowed Bert Harkins. Willie was a veteran of the Scottish scene and had ridden for the Monarchs during their Old Meadowbank days. He was to prove a thorn in the Monarchs' side throughout the meeting and ended up with eight points to show for his efforts.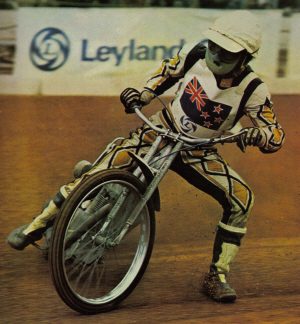 Dave Gifford
The Bandits ran out 42-36 winners on the night with Dave Gifford, an irregular columnist on this very website, scoring a 12 point maximum. He also left the stadium as the new track record holder after winning heat twelve in a time of 70.2 seconds.
Best Monarchs on the night were 'Millen the Villain' with ten points and Charlie Monk with 8. Dave Trownson got off to an inauspicious start as he recorded a big fat zero, though he more than made up for it in the years that followed.
15th April 1977 - Challenge Match
Edinburgh 36
Jack Millen 10, Charlie Monk 8, Bert Harkins 7, Alan Bridgett 6, Alan Morrison 4, Neil Webb 1, Dave Trownson 0
Berwick 42
Dave Gifford 12, Willie Templeton 8, Graham Jones 7, Mike Hiftle 5, Noel Suckling 5, Robin Adlington 4, Wayne Brown 1
1) Templeton, Harkins, Hiftle, Bridgett (exc) (no time)
2) Morrison, Suckling, Webb, Brown (f) 74.0
3) Gifford, Millen, Adlington, Trownson 70.7
4) Monk, Suckling, Morrison, Jones (exc) 72.1
5) Hiftle, Millen, Templeton, Trownson (r) 71.3
6) Jones, Harkins, Brown, Bridgett 70.7
7) Gifford, Monk, Harkins, Adlington 71.3
8) Bridgett, Templeton, Suckling, Webb 71.6
9) Jones, Millen, Bridgett, Brown 70.8
10) Gifford, Bridgett, Adlington, Harkins 74.0
11) Monk, Millen, Templeton, Hiftle 71.8
12) Gifford, Harkins, Jones, Trownson 70.2
13) Millen, Adlington, Hiftle, Monk 71.5

The result was a blow to the new promotion as they must have hoped to start with a victory. The defeat was perhaps inevitable as Berwick were already well into their season and the Monarchs were short on match fitness.
Mike Parker was sure that results would improve as the team became familiar with their new surroundings. He gave Berwick little credit when he reflected on the match, saying:
"Everybody knows that normally Bert Harkins and Charlie Monk would walk all over Dave Gifford. So Dave got a maximum tonight. Nobody could catch him and he was instrumental in sending Monarchs back in with their first defeat. I know Dave. I brought him over from New Zealand when he was a kid and he rode for me for seven years. He wouldn't have lived with Charlie or Bert tonight if the Monarchs had got in enough match practice."
He was also happy with the attendance and the prospects for the venue:
"I'm over the moon about the response. I knew we'd bring a whole lot of people back to the sport but tonight's turn out exceeded everybody's expectations. If the gates level out to 4,000 or 5,000, we'll live. The queues just after seven were so long I had to go on the gate myself! I tell you this track is going to be the envy of every other in Britain - in both leagues. The potential is mind boggling."
Powderhall remained the home of the Monarchs until the end of 1995.
This article was first published on 7th September 2006
---

'Giffy':

"Ah, those were the days, I remember them well, everyone used to call me footpath! Good article and a fond memory but what is not mentioned is the actual reason for the Monarchs losing. In my opinion the reason was the track itself, it was almost unrideable, wet, heavy and totally impossible to turn the bike on. The dirt must have been a foot deep. I don't know if the weather hampered the preperation or not but the outcome was a very poor advert for speedway. Fortunately the Berwick riders were able to adapt a bit better and we won much to the dismay of the Edinburgh promotion. Oh dear, how sad, never mind."
Bert Harkins:

"I enjoyed the story and photos on Powderhall Stadium, home of the Edinburgh Monarchs, although it is sad to see the state of that grand stadium in your photograph. I see that Dave Gifford has written about the opening meeting at Powderhall and how he top scored for Berwick when they beat us that night. Yes, it's true, the track was very deep, so deep in fact that I was grounding the chainguard on the left side of my Jawa in the corners,...but I enjoyed it! Giffie only top-scored because, as a Kiwi, he reckoned that I still owed him a few dollars from when we raced in New Zealand and this was his chance!"
Paul Blything:

"Just like going back in the Past, I was with Mike Parker Promotions as General Manager when Powederhall started up. Does anybody know what happened to Alan Bridgett?"
Bill Elliot:

"Expecting to see Alan "Doc" Bridgett at the Paisley Lions Reunion on 22 Oct. These days Doc is renowned as one of the best track curators of his time but in my era he was prepared to do a 500 mile round trip each weekend (plus away meetings) for the Paisley Lions, which in my book made him a very special guy. These days, some riders get a nosebleed if they have to drive more than an hour to get to some tracks! "
Tony Harris:

"'Doc' Bridgett is still working his magic on the track at Wolverhampton, home of both Wolves and Dudley Heathens. "

[ Use Mobile Version ]

Comment on this Article | Contact Us | Go Back to Main Menu