New Book: Streets Ahead - The Neil Street Story
By Tony Webb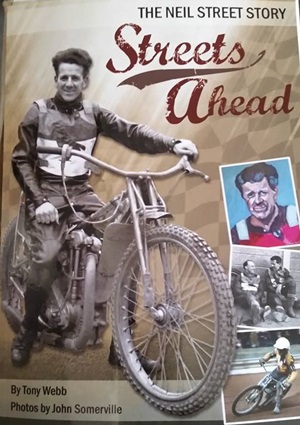 The Neil Street Story - Streets Ahead by Tony Webb is on sale now.
Photos courtesy of John Somerville, Charlie Wallis, Bill Keenan,Mike Patrick, Rick Wason, Frank Wendon, Trevor Meeks, Alf Weedon etc.
156 Pages, 206 photos, index, records, engine details and stories from his many friends.
Features on Gordon May, Ivan Mauger and Ivan Tighe,
All Neil's team photos.
Contributions by Phil Crump, Mark Lemon, Leigh Adams, Rod North and many more.
Posted Australia $35, Worldwide $50.
Orders via email to binbooks@iinet.net.au
Payment via Paypal to binbooks@iinet.net.au.
Bank details by request.
ISBN 978 0 64650 0
This article was first published on 14th July 2018
[ Use Mobile Version ]
---

Jock Davidson:

"Firstly can I say how pleased I am that we have a book on my good friend Bill's life. There are however several "howlers" I've spotted already & that's just in the previews! It's a pity that Carole, Graham, Andy or Bills brother Bob did not read the copy prior to it's publication. So please don't take it as fact because that what it says it in the book!"
Tony Webb:

"As the author of the Neil Street book I invite constructive input. Jock states there are mistakes. I contacted many people for input and the names are all listed. Invitations were sent to everyone I knew. The book was approved by Phil Crump and has been read by Bob Street and many close friends. If there are mistakes that detract from the spirit of the contents these can be noted in an Eratum in all future copies until such time there is a reprint.There was a deadline and there were several people that came back after the deadline. If I am provided with a list I will ensure they are noted. Neil had so many friends there will be different points of view, but overall I thought we gave Neil to credit he was due."

Comment on this Article | Contact Us | Go Back to Main Menu