Dream Team: Trevor Kimberley
Having watched Speedway at Leicester since 1951 and having already submitted a team of Hunters, this is now my team of Blackbird Road Lions. Memories are made of these, but shame that the Hunters name was abandoned.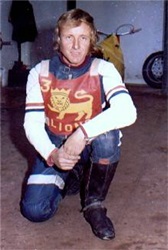 John Boulger
Ray Wilson
Ray was top Lion and top English rider for several years, and realistically our best World Championship hope until the advert of the new breed coming through the second division(Collins,Morton,Jessup etc). To score a World Cup maximum in Poland, at a time when foreigners did not ride there, was sensational, and led to the World Cup Willie nickname. So too was Ray's shattering of Jack Young's West Ham track record. What a ride, and what a rider.
John Boulger
John arrived at Leicester at the 1968 reopening, and he was just a promising Aussie, John was thrust into the third heat-leader slot, and more often than not filled the vacancy. If there was any disappointment about John's Leicester career it is that he moved away and probably had his very best years at Cradley, but nevertheless it was good to get him back at a time of struggle for the Lions.
DeWayne Keeter
The first of the modern era Americans, and so brave to lead the way for Autrey, Penhall etc. DeWayne was a direct replacement for Anders Michanek, and had no chance of being his equal. However, he rode in every 1969 league match, as did the whole team, and he even managed one maximum. Many were disappointed when DeWayne did not return for a second season, and much much worst was to come with his death in a racing accident.
Dave Jessup
A young DJ arrived as Lion's third heat leader to replace Graham Plant, and how he succeeded. It gave Lions a genuine heat leader trio, although Dave suffered his share of injuries. Sadly Dave was to move on, and he had an illustrious career, which included a machine failure possibly costing him the World title.
John Titman
For a couple of seasons John was practically Leicester on his own. Many home matches were lost, but never without a fight from one of my personal Leicester favourites. Sadly John was allowed to move on to Hackney, but l consider him to be one of the most underrated Australians ever to grace our tracks.
Ila Teromma
So many seasons of struggle for the Lions, but there were flashes of brightness occasionally. Ila was one of them. He arrived as a completely unknown Finn, and from the start filled a much needed heat leader berth. Ila eventually moved on to Cradley Heath, but I would say he had his best seasons as a Lion.
Les Collins
Les became the highest World Championship place Lion when he finished second to Penhall in Los Angeles. In fact Les could well have been Champion but for the Penhall/Carter coming together. Les served Leicester well up the betrayal that saw the stadium sold, and he went on to have a long and successful career.
Submit Your Own Dream Team
This article was first published on 27th December 2015
[ Use Mobile Version ]
Comment on this Article | Contact Us | Go Back to Main Menu