It's All About You...David Cohen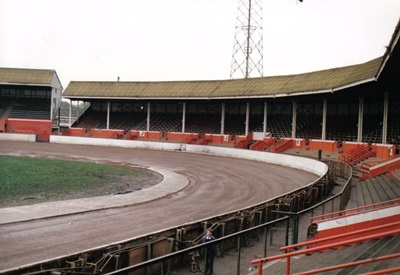 Hyde Road
Tell us about your introduction to speedway
My dad watched dirt-track racing in the 20's, but he lost interest before the war. Once I was old enough to start going (mid-60's), we went to see Belle Vue occassionally. I started really following speedway in '72, when Peter Collins caught my interest. After that, I was hooked proper.
Tell us about your favourite meeting of all time
Belle Vue vs. Hackney 1973 K.O. Cup Final, including the Collins vs. Michanek run-off - what a race - the greatest match race of all time.
Tell us about your favourite rider of all time
There are lots, but I always liked Anders Michanek; All the Belle Vue boys, The Yanks.
Tell us about your favourite track/stadium
Hyde Road, especially on BLRC nights in the early 70's. Wembley in 1981.
What are the best things about speedway?
The fact that you can still get close to your heroes. On its night and at its best, it's certainly one of the most exciting sports in the world. The smell of burnt methanol.
What are the worst things about speedway?
The phrase use too often by people frequenting blogs and forums "the powers that be". Fans thinking that by tinkering with the rules (as is done now most years), this will make _any_ difference to speedway's standing, in comparison to how it's viewed by sports fans generally / how the press will view it.
What one thing would you do to improve speedway?
Take it out of the hands of local promoters. A vast programme of stadium improvements (sorry, that's two things :-)
Tell us about a rider you wish you'd seen
Sprouts Elder - my dad's favourite. Ove Fundin.
What does the future hold for speedway?
UK scene - Can't see much change. Speedway seems mostly to be preaching to the converted. There are far too many people who haven't even heard of it! World scene - GP holding steady, possibly attracting more fans Europe scene - Poland still leading the way in terms of fan base.
Take part in this feature
This article was first published on 4th February 2010
[ Use Mobile Version ]
Comment on this Article | Contact Us | Go Back to Main Menu