It's All About You: Peter Lipar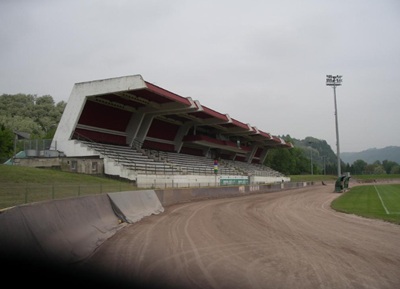 Krsko
Tell us about your introduction to speedway
My father used to take me to speedway races as a child. The first race I remember is a World Team Cup (Group B) meeting in Krsko (1995) - I was 5 then. Norwegian duo Gunnestad and Holta have won it. Ukrainian pair Kolodiy and Marko and New Zealand pair Thorpe and Briggs also stayed in my memory. I'm pretty sure I've been to a speedway race before that meeting, but this is the first one I remember.
Tell us about your favourite meeting of all time
Continental final in Lonigo (2000). Matej Ferjan won a gold medal after a run-off with Piotr Protasiewicz. Ferjan became the first Slovenian to qualify for the Grand Prix series. Actually, the meeting was cancelled on Saturday because of the rain, so we slept in a car over the night. There were a lot of Slovenian fans at the meeting and the atmosphere was great. I remember Ferjan got very emotional so for me, these are really nice memories.
Tell us about your favourite rider of all time
Matej Ferjan - he is a pioneer of Slovenian success in speedway (World U-21 bronze medal, Continental champion and first Slovenian in SGP). More because of successes, I liked him because he was a very modest and nice guy. He was a real favourite of fans in Krsko and during his success speedway became very popular in Slovenia. Unfortunately, after some disagreements, he started racing for Hungary. Sadly, his life ended far too soon.
Tell us about your favourite track/stadium
As I live near Krsko, that must be Matija Gubec Stadion in Krsko. I never miss a meeting there. It used to be a fantastic racing track in 90's and early 00's, but after constant changes and adding of new materials the track nowadays rarely provides close racing and overtaking. I also like Pardubice (Golden Helmet weekend) because of the good atmosphere and watching 6 riders on a track is something special.
What are the best things about speedway?
The smell of methanol, the sound of machines, meeting new people and friends from other countries/cities, travelling to different places, etc. A good atmosphere definitely contributes to it - especially when the racing gets close.
What are the worst things about speedway?
I hardly find any bad thing about speedway - maybe travelling a long way home after the race finishes. Generally, the worst thing about speedway is that this is a declining sport - the venues all over the world are closing, there are fewer riders than before, many riders finish their career far too early and not many young people decide to give speedway a chance.
What one thing would you do to improve speedway?
I would try to revive speedway in some places that has already been alive before and is still popular but they don't have a stadium. To name a few from my region: Gornja Radgona, Osijek, Prelog and I'm pretty sure there are many places like this in other countries where people would be very happy to have speedway back in their town.
Tell us about a rider you wish you'd seen
Per Jonsson's win at Champions Cup in Krsko 1988. That was a meeting when a record of over 15.000 people came to see a meeting. Otherwise, I'm more of 90's speedway fan so I've seen most of my favourites.
What does the future hold for speedway?
At the moment the future doesn't look bright. In just a couple of years Slovenia was short from almost 20 riders to just over 5 (the situation in neighbour countries is even worse). A few years ago, clubs finally started to organize a junior speedway school and I hope their work will bear fruit in the future. Just for example - in 70's there were over 100 candidates to try speedway just in Krsko. But there have always been ups and downs and I hope speedway in Slovenia and all over the world will face better times.
Take part in this feature
This article was first published on 13th January 2020
[ Use Mobile Version ]
Comment on this Article | Contact Us | Go Back to Main Menu