Grand Prix Preview 2005
by Chris Seaward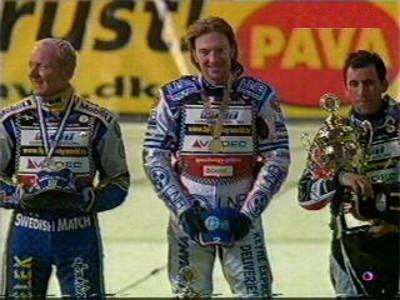 Ryan Sullivan
Ryan Sullivan has unfortunately fallen into the trap of speedways most common cliched, on his day he is convincingly capable of beating the best in the world, yet on other occasions he is easily outclassed by much lesser riders. Over the past two seasons the Australian seems to have eradicated consistency from his riding inducing the impression of a rider sliding down the scale rather than ascending it. However, Ryan can still be a major force in the grand prix series and it is now his priority to prove that his wildcard inclusion was justified.
A top eight position in this years GP season is imperative, however, based upon league form so far in 2005 he may struggle to achieve it.
Predicted Position 10th - "The lost soul of the series".
---
Leigh Adams
Speedway fans throughout the world are well aware Leigh Adams has more than enough ability to comprehensively become world champion in 2005. Now Crumpy has achieved the number 1 status Leigh surely becomes our beloved 'nearly man' The new system will suit the 'man from Mildura' greatly and provides a welcome break from those tense eliminators where Adams tended to buckle under pressure. It has been suggested that Leigh is not mentally tough enough to be able to consistently perform at grand prix level, furthermore lacks conviction at crucial times. Now is the time to prove those cynics wrong.

Predicted Position 2nd - "The squeaky clean character of the series"
---
Nicki Pedersen
One of the most entertaining and controversial riders on the grand prix circuit. There is guaranteed excitement when Mr Pedersen comes to tapes proudly brandishing his 'all or nothing' style. Forever in the thick of the action, he most defiantly adds flair and aggression to the series. The Danes hunger and passion to succeed is often channelled in contentious ways, dangerously dumping the helpless Greg Hancock in the fence at Prague gained him no new fans. But Pedersen is an extremely tough campaigner and I fully expect him to be near the top this year, however, regaining his crown of 2003 will prove extremely tricky.

Predicted Position 6 th- "The rough and ready character of the series"
---
Hans Andersen
An extremely talented and courageous young rider who seems to thrive on hostility and controversy. His win at Gothernburg last season followed by a third in Slovenia proved Hans is more than capable of mixing it with the big guns. Furthermore his league form in 2005 suggests he will enjoy a prosperous Grand Prix campaign. Andersen is fast, ruthless but very professional, the kind of villainous character Benfield Sports much love.

Predicted Position 5th - "The villainous character of the series"
---
Antonio Lindback
The Grand Prix has possibly arrived too soon for the exuberant Brazilian Swede. At this early stage in his career his erratic and often volatile riding style may prevent him from consistently demonstrating his true ability. As we saw in the world cup, nerves play a detrimental role and hopefully Antonio will learn to overcome this. Few will expect Linback to be competing with the big boys, but within his maiden year his riding ability will develop significantly whilst providing fans with some classic Brazilian flair.

Predicted Position 14th - "The boy wonder of the series"
---
Tomasz Chrzanowski
While mulling around the Bydgoszc stadium on the day of last years GP I stumbled across Tomasz, he arrived in a luxurious sports car with an extremely attractive woman on his arm and was dressed exceptionally stylishly. However his on track performance didn't reflect his off track charisma and glamorous image! In fact his efforts were rather disappointing. Chrzanowski has in the past been considered by the Poole promotion but as yet hasn't been handed a team place. Sorry Thomas you're my wooden spoon rider this year!

Predicted Position 15th - "The underdog of the series"
---
Tomasz Gollob
Gollob is a great rider who has more than enough talent to be world champion, he has been an integral element of the Grand Prix series ever since it's humble beginnings and his ability is occasionally overlooked. His breathtaking passing manoeuvres have provided some priceless entertainment and amazed thousands of fans. Inconsistency has always hampered his world championship attempts; however a switch from Jawa to Gm engines in 05 will hopefully reap rewards. With three more permanent tracks added to this years calendar Tomasz will surely thrive on the move away from temporary surfaces on which he often rode so poorly.

Predicted Position 4th - "The lovable rogue of the series"
---
Jason Crump
Every time I see him he is faster, more aggressive and professional. Without doubt the best rider in the world at the moment and I believe he will once again be world champion in 2005. His desire to succeed is astonishing and clearly he is enjoying the number one status. Always a pleasure to watch ride and is a true, fully fledged racer.

Predicted Position 1st - "The passion and pace of the series"

This article was first published on 26th April 2005
---

Harry Ward:

"I think it was very brave of Chris to put his money where his mouth is and take the risk to predict riders finishing positions in this years GP. I have to say that the one comment that I found out of place was regarding Greg Hancock. Having followed the GP series for the last nine years I have to point out that with a few notable exceptions, Jason Crump last year being one, domestic form seems to have little to do with what riders achieve in the GP's. Seems to me that most of the riders put much more into the GP meetings and less into the domestic racing which can be said to be their bread and butter. Equally look at Leigh Adams domestic averages, he is regularly up there at the top and yet falters when it comes to the GP's. So Chris I think you over did the Greg Hancock poor form and I would go with Greg being on the rostrum again this year. But i will be the first to admit its very easy to be critical. So well done for your bravery."

[ Use Mobile Version ]

Comment on this Article | Contact Us | Go Back to Main Menu