An interview with....Les Rumsey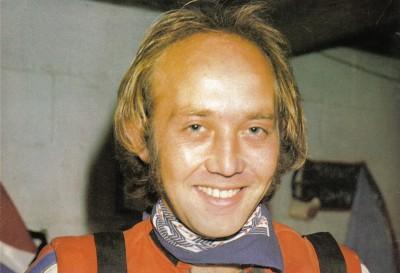 Les Rumsey
You made your debut for Canterbury in 1972. What was your background in the sport prior to that?
I'd been riding motorbikes from the age of eleven, that's when my father bought me a cut down 150cc James for my birthday. I rode that in a field near our house till I was thirteen. I then got a 250cc Dot trials bike. We went to a Canterbury supporters club film evening in about February 1969 where I found out about the Kent Youth Motorcycle Club, entered their trial the next day and finished 2nd to Dave Jessup. We then sold the trials bike and bought a 200cc grasstrack bike, which I rode for nearly 3 seasons, winning the club championship twice. Some of the riders I rode against at that time included Gordon & Barney Kennett, Alan Sage, Dave Piddock & Bobby McNeil.
You made steady progress with the Crusaders before reaching heatleader status. What were the highlights of your time with the Crusaders?
Highlights for me with the Crusaders were winning a best pairs event with Alan Emmett early in my career, riding in the 2nd division riders championship twice, finishing 4th in 1975 after a run off with Michael Lee and Arthur Browning, and best of all winning the league in 1978.
How would describe your racing style, were you a trapper or did you have to do it the hard way?
I was always pretty good at trapping but had a lot of races where I had to come from the back. Life's a lot easier winning from the front!
You moved onto Oxford in 1979 for a single season. How did that come about and why did it last for just one year?
I moved to Oxford in 1979 after not being able to agree terms with Canterbury. I got the deal I wanted and Oxford even paid me a bonus at the end of the season. Alas the next year we couldn't agree a deal, so off I went to Crayford.
In 1980 you rode for Crayford Kestrels. How do you remember that?
1980 at Crayford was the worst mistake of my career. I thought that by going to a really small track it would improve me as a rider, but it had the opposite effect and I dropped from a ten point average to 7.7 points. Needless to say I only stayed for that season.
1981 was a strange year for you as you moved to Wolves then again to Weymouth. What were the circumstances behind that?
In 1981 moving to Wolves was enjoyable, especially riding alongside Cribby and the very young Neil Evitts. Wolves had dropped down from the 1st division, racing on a Sunday, not getting the crowds and losing a lot of money. In the middle of the year Weymouth made an offer to Wolves to buy Steve Crockett and myself, which was too good for them to turn down, so off I went again. Weymouth had been after me to ride for them since I left Canterbury, but I had always turned them down because having had three years travelling to Exeter every monday, while doubling up with Canterbury, I knew what it was like to travel for four hours with the sun in your eyes.
What do you recall of your time at Weymouth?
When I joined Weymouth things were great, good track, good promoter, fantastic team spirit with Wiggy, Yeatsey, Colesy, Brian Woodward, Malcolm Shakespeare and the rest. Unfortunately the next year the promotion introduced stock cars on the track. The track became pretty rough, it was inconsistent from week to week and I lost a lot of confidence. It became a chore and I wasn't enjoying it at all. It was decided to loan me back to Canterbury, who needed a rider, for the last few weeks of the season.
Although you're primarily remembered as a top National League rider you also rode many meetings in the British League. How did you find that?
I had a good time in the British League when I doubled up with Exeter, in fact in 1978 I had nearly a seven point average, but it was very hard only riding in the British League. If you lost a bit of confidence you didn't have the National League to give you a boost. It's no different today, you only have to see how hard Chris Harris is finding it only riding in the Elite League. Even when I was riding it cost a lot of money to be able to compete at that level
Your career ended where it began with a short spell at Canterbury. Why did you choose that time to quit?
After my short spell back at Canterbury in 1982, I got a job in the winter selling Double Glazing. In 1983 a fixed pay scale was introduced, which meant the most I could earn from a meeting was £50 less than the year before. I had a young family by now, the sales job was going okay so the decision to quit was made a bit easier.
What are you doing these days?
I'm still working in Double Glazing, can't find a proper job. Most weekends in the summer are spent travelling all over the country grasstrack racing with my son. I may have retired 22 years ago but motorcycle racing is still costing me a fortune!
This article was first published on 4th September 2004
---

Betty Duthie:

"I never knew you were so famous Les, that's a very interesting read."
Colin Cripps:

"I remember you at Canterbury, me and my mates used to go every Saturday night they were good nights. I'm glad I found this site it was good reading about you."
Rpbbie:

"Hello Les, I still remember the thrill of the 5-1 partnership with Dave Gooderham in the last race! I believe I knew your nan who had a Yorkshire Terrier I think it was and lived in Chartham. All the best, Robbie"

[ Use Mobile Version ]

Comment on this Article | Contact Us | Go Back to Main Menu